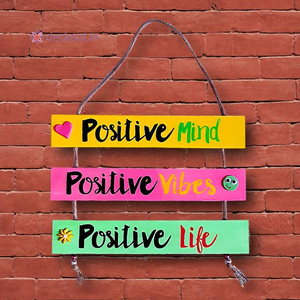 Positive Musings Wall Plate
Regular price INR 650.00 Sale
Colourful handmade wall plate. Positive message hand painted on 3 rectangular MDF planks, embossed elements done with clay, finished with clear gloss varnish. 
For customisation, please write to info@deckout.in or click here. Please include order number and changes to be made. You can also chat with us using WhatsApp by clicking the "Chat With Us" button at the bottom of the page.
Customisations may cause price variations. We will inform you of the excess charges before we begin work and they will need to be cleared before product is dispatched.
Each of the 3 planks measure approximately 12" X 2" each, total length 8" - 10", including the jute string to hang the plates. . Ready to hang.
Care: Wipe with a clean dry cloth.
Typically ships within 5 - 7 business days.